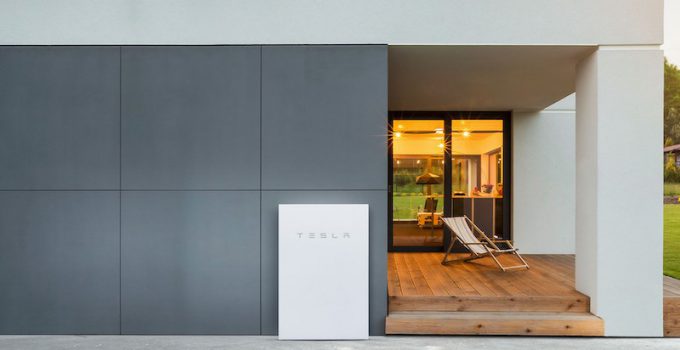 Tesla – having already disrupted the trillion dollar global car and petrol retailing industries – has now confirmed its plans to take on electricity retailers in Australia, saying it will seek to combine rooftop solar, batteries and EVs and disrupt the business models of "traditional incumbents."
The move by the electric car and battery storage monolith, first flagged exclusively by RenewEconomy back in September, has now been made official after the Australian Energy Regulator on Thursday said it had accepted its application and opened it up for submissions.
Tesla has already provided the technology for numerous big batteries in Australia, including the original Hornsdale Power Reserve and the Victoria Big Battery, along with household batteries with its PowerWall product, and the creation of "virtual power plants" that it markets through Energy Locals.
Tesla has also completely dominated the rapidly growing electric vehicle market in Australia, accounting for nearly two thirds of all new EVs in Australia through its top selling Model Y and Model 3 electric cars.
Now it wants to combine the storage, renewable energy generation, and EVs in retail electricity packages for households across the main grid, something that the existing big energy retailers have been slow to come to grips with.
Tesla is seeking a retailing licence for Tesla Energy Ventures in NSW, Victoria, Queensland, South Australia, Tasmania, and the ACT, and says it will target households and small and large scale commercial customers.
Like its similar ventures in Texas and the UK, its initial focus will be on customers who own either a Tesla EV or a household Powerwall battery, or a bigger Megapack battery in the case of commercial customers.
These number around 150,000 in Australia and are growing quickly. Tesla's rationale is that it would like to control the appliances to service grid markets such as pricing events and frequency control, and it will also help manage the load of its large and growing EV Supercharger network across the country.
Little other detail of its business plans are revealed in the published AER application, which is focused on compliance and regulatory issues. Anything interesting is redacted and the annexes outlining the detailed business plans and targets are not publicly available.
It does say: "This is just the beginning. With Tesla building its most affordable car yet, Tesla continues to make products accessible and affordable to more and more people, ultimately accelerating the advance of clean transport and clean energy production.
"Electric cars, batteries, and renewable energy generation and storage already exist independently, but when  com mined, they become even more powerful – that's the future we want."
The Australian venture will be led by Cleve Schupp, the Melbourne-based head of global marketing and content for Tesla'a energy division. Tesla Energy Ventures currently has little more than a handful of employees, but presumably this will grow quickly after its launch.
In a recruitment drive in the UK, ahead of the launch of Tesla Energy there, the company highlighted its intention to disrupt the status quo, and the legacy utility business, as it has done in the global car market.
It said it was looking for a new executive "with a healthy scepticism of the status quo" to manage the company's entry into the UK market.
It made it clear it was aiming to "support the transition of the entire electricity grid to 100% renewables", which still seems to be CEO and major shareholder Elon Musk's ambition, despite the prominence of his right wing views on Twitter/X that he also now owns.
Tesla has also launched an energy retailer in Texas, where it says "Tesla Electric is a retail electricity provider that allows you to power your home, vehicle and community with sustainable electricity from Tesla."
The move by Tesla in Australia for a local electricity retailer licence is significant for a number of reasons, and not just its potential impact on the business model of the incumbents, particularly the big three "gentailers" – AGL, Origin and EnergyAustralia – and the federal government owned Snowy Hydro.
It also comes amid a big leap in the uptake of EVs in Australia, the huge surge in rooftop solar across the country in response to the fossil-fuelled rise in household electricity bills, and renewed focus on the importance of consumer energy resources (CER),  or distributed energy resources (DER) to the grid.
There are growing discussions about how best to "orchestrate" the rooftop solar, household batteries and EVs to help fill the gap created by the mass exit of Australia's ageing coal fired generators.
Tesla thinks it knows. And, as in the car industry where it had no legacy business to protect, it is not afraid of pushing the boundaries to where it thinks the consumer wants to go. It should be fascinating.
Giles Parkinson is founder and editor of Renew Economy, and is also the founder of One Step Off The Grid and founder/editor of the EV-focused The Driven. Giles has been a journalist for 40 years and is a former business and deputy editor of the Australian Financial Review.