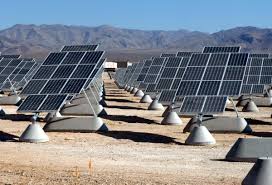 The U.S. will soon have a fourth vertically integrated solar company.
SolarCity, the biggest residential solar installer in the U.S, said this morning that it plans to acquire high-efficiency solar manufacturer Silevo for $168 million in stock, $9 million in cash, and an assumption of $23 million in liabilities. SolarCity could dish out another $150 million in stock if production targets are hit.
When the acquisition closes, the company will join First Solar, SunPower and SunEdison as the only U.S.-based companies that have achieved full integration across manufacturing, sales and installation.
Silevo is currently in the early stages of building a 200-megawatt module factory in New York. SolarCity says it wants to scale those efforts and eventually build a 1-gigawatt factory in the state within two years.
"At a targeted capacity greater than 1 GW within the next two years, it will be one of the single largest solar panel production plants in the world. This will be followed in subsequent years by one or more significantly larger plants at an order of magnitude greater annual production capacity," wrote Elon Musk, Peter Rive and Lyndon Rive on SolarCity's blog.
SolarCity has been steadily moving upstream, most recently acquiring the racking company Zep Solar for $158 million. Company executives say they are committed to controlling every piece of the solar business, from manufacturing to balance of systems to installation and financing.
"We will be the most vertically integrated solar company in the world," said SolarCity's Chief Technology Officer Peter Rive.
Will getting into manufacturing — a sector littered with failed startupsclaiming to have the next big technology — be a smart move for SolarCity?
"SolarCity has been heavily focused on cutting costs across the board," said Shayle Kann, VP of GTM Research. "I can't imagine a company so focused on cutting costs making an acquisition like this if they weren't convinced it would be cost-competitive."
SolarCity Chairman Elon Musk, CTO Peter Rive and CEO Lyndon Rive held a conference call for investors this morning. They laid out their reasons for the acquisition and plans for the next decade of growth. Here are some of the reasons behind the move.
Supply
Musk explained that SolarCity plans to install "tens of gigawatts per year" over the next decade. But the company won't be able to reach its expected scale without a steady supply of modules. "If we don't do this, we thought there was a risk of not having solar panels in the long term," he said.
Technology
Although manufacturers are starting to boost idle production to match increasing global solar demand, SolarCity isn't interested in conventional crystalline-silicon panels. "We're seeing high-volume production of basic panels, but not high-volume production of advanced panels," said Musk.
After looking at more than 20 manufacturers, the Silevo high-efficiency technology was "the best-performing" and offered the ability to scale most quickly, said Peter Rive. He also said that the company would spend much more on technology R&D over the coming years, but could not quantify how much.
Full integration
It's no secret that SolarCity sees vertical integration as the fastest way to lower the cost of solar energy. But the company wants to go deeper than any other competitor by potentially adding power electronics and battery storage into its production strategy.
Lyndon Rive hinted at future acquisitions of inverter suppliers and a strategy to add storage into the production facility. "Anything that will reduce our total installed cost, we will be interested in acquiring," he said.
Unsubsidized solar
If there are any worries within SolarCity about the looming expiration of the federal Investment Tax Credit, the team did not show it. Rather, they expressed a deep confidence that a manufacturing strategy could make them competitive without tax benefits over the coming years.
"The goal is to be competitive with no subsidies at all," said Lyndon Rive. "With the Silevo acquisition, that's what we believe we can do."
Musk also described the need for deeper integration in order to stay competitive: "We'll be actively looking at additional companies to acquire as well as building up engineering to achieve that goal."
Unprecedented scale
The planned 1-gigawatt cell and module facility in New York may be unprecedented, but SolarCity executives said it's "just the start" of even bigger scaling plans.
"The crazy thing is that the gigawatt plant will almost be a pilot," said Musk, who also hinted at adding battery storage production to the plans. Musk and Lyndon Rive said that 10 gigawatts of production capacity could feasibly be in the works, assuming the company grows the way they think it will.
Ultimately, SolarCity is not investing in Silevo as part of a short game. Lyndon Rive described the need to think about position in the market over the coming decades, not just over the next few years.
"We can now control the installed cost per kilowatt-hour. If you do that, the market is infinite for the next 30 or 40 years," said Rive.
Below is Eric Wesoff's earlier coverage on Silevo's production plans, technology and cost structure. Look out for more coverage on the economics of SolarCity's manufacturing plans.
—
Late last month, Silevo, an advanced silicon solar-cell startup, announced that it was building a 200-megawatt solar cell factory in Buffalo, New York.
According to the Buffalo News, the Empire State will be investing $225 million into the facilities of Silevo and LED firm Soraa, with the aim of employing 475 people at the Riverbend site. Full production is anticipated in 2015. Silevo has also agreed to spend $750 million in the region. These are the aspirational promises typically made at state-funded energy hub unveilings across the nation.
Silevo had $16 million in revenue last year and is not yet profitable, according to reports. Founded in 2007 by a team from Applied Materials, Silevo has raised $75 million in funding. The firm has a $33 million, 32-megawatt production facility in China and production facilities in Fremont, California.
Silevo technology
As we've reported, Silevo claims its tunneling junction device uses elements of standard crystalline silicon solar cells and elements of thin-film solar cells. The silicon-based PV cell combines n-type substrates, thin-film passivation layers and a tunneling oxide layer that yields high conversion efficiencies.
The Silevo cells' high voltage-to-current ratio, CEO Zheng Xu has stated, make them capable of "greater than 21 percent conversion efficiency." The hybrid concept's use of oxide as the middle layer evolved from experimental work with metal insulated semiconductor cells carried out by solar energy pioneer Martin Green in Australia in the late 1970s. Company representatives have claimed that an 18.3-percent-efficient module with costs below $1 per watt will soon be in volume production. Silevo competes with high-efficiency panels from SunPower, Panasonic, Sanyo, and Suniva. Most vendors aim high-efficiency panels toward area-constrained applications (like Japan's rooftops), or, as in the case of vertically integrated SunPower, utility applications.
Raffi Garabedian, the CTO of First Solar, has said, "At the utility scale, efficiency is really hard to pay for," adding, "You end up paying too much for the module, and that doesn't offset your balance-of-system costs."
Solar analyst viewpoint
Shyam Mehta, Senior Solar Analyst at GTM Research, notes that the "highly competitive global landscape…is currently dominated by large, low-cost Chinese manufacturers." However, Silevo's "much higher efficiency of light-to-electricity conversion than most of the market can help lower overall system costs. Also, Silevo's technology produces more actual energy pound-for-pound than your average solar panel. Both of these are important, differentiated value propositions."
Mehta sees the company "focused on the rooftop solar market, since that is where the technology has the best value proposition. At the moment, the plan has to be to scale production. Currently, production volume is limited, which has made sense since the technology is very nascent and Silevo has been optimizing it for large-volume production over the last two years. However, the small scale means that the company's costs are also higher than Chinese competitors, although from what Silevo has told GTM, the costs are surprisingly low given the small scale. That's where the Buffalo facility comes into the picture."
As to whether Silevo is a good bet for the state of New York, Mehta said, "It is impossible to deny that there is meaningful risk in investing anywhere in the solar space in general. The industry is still young, very volatile and extremely competitive. Continuing dependence on subsidies also creates risk."
He added, "Going from small to high volume as Silevo is doing is a difficult process — many solar firms have experienced delays and technical snags when scaling up." Still, Mehta called Silevo a "smart, savvy company with very promising technology, and importantly, the firm is aware of the dual importance of technology and cost-competitiveness."
Mehta also suggests that although Silevo currently manufactures cells in China, "It is not subject to either the China import tariff in the U.S. or the negotiated settlement in the EU, because both of those only apply to cells with a P-N junction, while Silevo's cells have P-i-N junction."
This is good news for Silevo and for Silevo's investors. But we've seen too many recent examples of states and localities bending over backwards to provide grants and tax breaks to untested technologies that have yielded little in return.
For now, New York's cleantech strategy includes manufacturing a startup's solar cells in Buffalo.
Source: Greentech Media. Reproduced with permission.