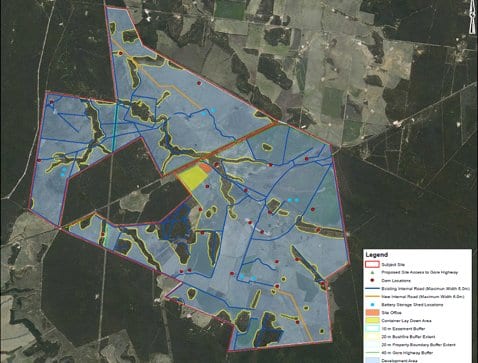 A staged plan to build what would be the largest solar PV plant in Australia – and possibly the largest yet proposed in the world – has been granted planning approval in Queensland.
Solar Choice, which manages commercial solar power tenders and has been working on building a pipeline of major solar projects, has been working on the Bulli Creek Solar Farm in southern Queensland, a few kilometres from Powerlink's 330kV substation near Millmerran, for the past 18 months.
On Monday, the Bulli Creek project received approval from the Toowoomba Regional Council for a total footprint of up to 2 gigawatts (2,000MW) over the next eight years across 13,000 acres of cleared, flat cattle grazing land. It has the option of building out the site in manageable stages of 100MW to 500MW or more per stage.
The connection process for an initial 550MW is underway with Powerlink. Preliminary studies from transmission engineers Digsilent indicate a total potential capacity at the Bulli Creek substation of well over 1GW, and perhaps over 2GW.
Bulli Creek Solar Farm from Solar Choice on Vimeo.
The uncertainty of Australia's clean energy policy still presents a significant hurdle, but Solar Choice says the Bulli Creek project is attracting attention from a range of global investors prepared to take a medium- and long-term view.
It remains open to a large-scale investor, willing to move ahead of competitors by adding a "pipeline ready" project to their portfolio.
Managing Director of Solar Choice, Angus Gemmell, says the Bulli Creek Solar Farm is one of a very small and select number of mega-scale solar projects that Solar Choice has strategically located at transmission nodes on broad-acre lands with high solar irradiation, west of the Great Dividing Range.
These include a 1GW solar project currently being progressed through the Whitsundays Regional Council , directly adjoining Powerlink's 275kV Strathmore Substation at Collinsville. Another 300MW project, the Gannawarra Solar Farm in north-western Victoria, is already planning approved on the 220kV transmission lines between Swan Hill and Kerang.
"We believe that large-scale solar is on the right side of history – it's not a matter of if these projects will be built, but when," Gemmell told RenewEconomy in an interview.
That will not be anytime soon, unless the federal government recommits to the Renewable Energy Target. Its attempts to cut or abolish the target has brought investment in large-scale wind – and emerging solar projects – to a complete halt, apart from companies such as Solar Choice that are prepared to go up-stream and take on development risk towards "pipeline ready" status.
A lot of the Coalition's problems with the RET appear to be built around its distaste of wind farms. But many, including Bloomberg New Energy Finance, suggest that large-scale solar projects will account for up to half of the approx 8GW of new projects required to meet Australia's current 41,000GWh target.
That's because solar costs are falling faster than wind energy costs, and their daytime production means that, in theory at least, their output is more valuable for peak pricing on the National Electricity Market.
However, recent pricing trends that show falls in the midday hours – courtesy of rooftop solar – may challenge those assumptions or perhaps just make the use of trackers for large-scale PV projects more appealing to access the morning and afternoon peaks. Horizontal single axis trackers are now a matter of course for many 100MW plus projects globally.
Still, Gemmell says a few very large-scale solar projects would perhaps enjoy more public support in regional Australia than wind energy. Just a few of those projects could meet one-third or more of new capacity requirements under the current RET.
Gemmell says that the Bulli Creek Solar Farm would be unlikely to start construction before 2016, but building it incrementally in modular stages would allow for storage to be added as the costs of that technology came down. Council's planning approval allows for numerous battery storage warehouses across the site in due course.
"Once the first one or two stages are in the ground, subsequent stages will be all the more bankable," he says.
Despite Australia having the longest contiguous grid in the world, vast space, modern infrastructure and one of the best solar resources globally, it has only a handful of large-scale solar projects currently under construction, including the 102MW Nyngan and 53MW Broken Hill projects, and the 57MW Moree solar project (with tracking). But all three have been heavily dependent on government grants.
One smaller 20MW project at Royalla in the ACT has been built with the help of 25-year power purchase agreements auctioned under the ACT government's ground-breaking reverse auction tenders. Two others have been awarded as part of the ACT's plan to source 90 per cent of its electricity needs from renewable energy by 2020. Additionally Solar Choice has its own 2.3MW Mount Majura Solar Farm in ACT that is moving into construction this year.
Gemmell says there are three avenues to market – the traditional PPA route with large energy retailers – which would likely only happen with a binding RET or once aging coal generators are eventually taken off-line.
The second option is a "pass-through" PPA, which is one that is designed to match the generation capacity with the demand needs of a bankable customer, or customers, most likely large industrial or manufacturing loads.
The third option – though one that is likely some way into the future, and dependent on getting costs down to the levels of the US and Middle East where solar plants cost less than $100/MWh – is to sell the output into the wholesale market. This is already happening in Chile.
If the January 2015 award in Dubai of a 260MW PV project at $US 0.0585c per kWh is any yardstick, the latter prospect may not be so far away as many think.
Giles Parkinson is founder and editor of Renew Economy, and is also the founder of One Step Off The Grid and founder/editor of the EV-focused The Driven. Giles has been a journalist for 40 years and is a former business and deputy editor of the Australian Financial Review.