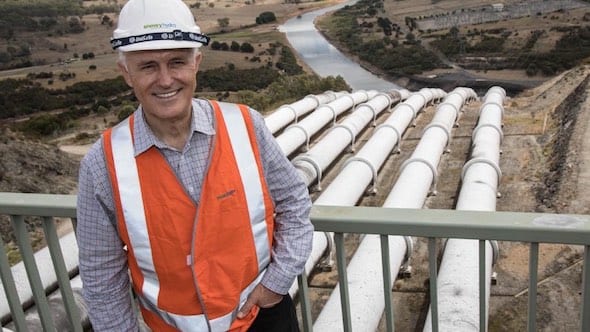 Jut hours after giving a lecture in parliament about the Coalition's belief and commitment to free markets, prime minister Malcolm Turnbull announced the biggest federal government purchase in living memory – the $6.2 billion buyout of Snowy Hydro.
The deal to buy out the stakes held by the NSW and Victorian governments takes the federal government from a 13 per cent shareholding to full ownership, and in total control of the decision process for Turnbull's big vanity project, the $6.5 billion (and counting) Snowy 2.0 pumped hydro plan.
It also gives Turnbull control of the fourth biggest "gen-tailer" in the country, with more than 1 million customers. From now on, it is Turnbull's government that is going to be directly answerable for the size of their customer's electricity bills.
This deal has been well flagged, but creates myriad issues and potential problems and  conflicts of interest, some of which are going to be difficult for Turnbull and the government to navigate, and which are crucial to Snowy Hydro's competitors, particularly the battery storage industry.
Most of all, Turnbull will need to resolve the apparent conflict of interest between being the chief policy maker, and now the owner of the fourth biggest gen-tailer in the country.
This is occurring just as he is proposing a new energy market mechanism, the National Energy Guarantee, whose only obvious beneficiaries are Snowy Hydro and existing coal generators.
As the utility owner, and the policy maker, Turnbull is now going to be directly responsible for the electricity bills of one million customers in the Red Energy and Lumo stables, and answerable to the way Snowy Hydro plays the wholesale market, and sets its retail margins.
And, it should be noted, Snowy Hydro has not been squeaky clean in the wholesale markets, and it is the actions of the owners of peaking gas plant like itself that have been largely responsible for the huge hikes in wholesale prices over the last two years.
This report from the Australian Energy Operator – which we wrote about here "High Energy prices? Blame fossil fuel generators, not renewables" – gives an insight into how Snowy Hydro and Origin contrived to push prices up early last year.
They used the rules of the market to bid prices down to create a constraint, so they could bid prices back up again, and by a lot more than they fell. Apparently it is legal, but it's a very bad look for a company owned by someone supposedly championing the push to cheaper prices.
Snowy Hydro is not easily synonymous with reliability either. It was the failure of its Colongra gas plant in the heat-wave last February that caused load shedding in NSW and brought the state perilously close to a major blackout. As the Australian Energy Regulator noted:
"Technical problems prevented Snowy Hydro's Colongra power station starting from around 4.30 pm. In response, at 5.20 pm AEMO issued market notice 57396 advising that an actual LOR 3 had been declared in New South Wales from 4.50 to 6 pm, and that as a result load shedding would be required."
Another question with federal government ownership is what, now, will become of Snowy Hydro's role as a major agitator against progressive policies that could encourage smarter, cheaper and cleaner alternatives?
Snowy Hydro has been one of the biggest critics of battery storage. This is mostly about self interest and its desire to build Snowy 2.0, and to this end it has used some completely risible figures to try to illustrate that point.
We broached that conflict of interest in story here, The case against battery storage just hit peak stupid; and again when Snowy Hydro's "independent" market assessment included some simply absurd cost estimates for battery storage.
But Snowy Hydro has also been a fierce critic of moves to encourage demand management. CEO Paul Broad has even gone so far as to describe them as "enforced blackouts".
This is an extraordinarily dangerous and self-indulgent comment to be made by the head of a major utility.
It's bad enough that such nonsense comes from right-wing ideologues on the back-bench of the Coalition government, as it does repeatedly, but it means something different when it comes from a major generator now owned by the government that sets the policies.
The risk here is that this will be used to intimidate institutions such as the AER, AEMO and the AEMC (well, no real need on the latter), to baulk at some of the reform that would be good for consumers, but not so profitable for gen-tailers like Snowy.
Remember, it is smart policies like energy efficiency and demand management that have the best chance of lowering prices and ending the gold-plating of the grid and wholesale markets. The big generators, Snowy Hydro included, have fought these at every turn.
Of course, Turnbull could take an heroic position, like the Queensland government did last year before its state election, and instruct its state-owned generators to reform its bidding prices and work to keep prices down.
The problem is that without that big cash flow, Snowy Hydro will struggle to afford the money to pay for Snowy 2.0, which is going to struggle to justify its own existence in any case.
And this is where another big danger lies. By Snowy Hydro's own testimony, Snowy 2.0 is a project that is not needed until well into the 2030s, at least if we are encumbered with a government with such low ambition on climate change targets and clean energy as Turnbull's.
"Snowy 2.0 is a project for the future; it's not a project for the current state of the market," COO Roger Whitby told a Senates Estimates Hearing this week.
And unless Australia has a majority share of renewables, something that Turnbull has vowed to stop, it will mostly be using coal to push water up hill.
The Snowy Hydro executive team is smart enough to know, however, that if the Snowy 2.0 project does not get approved now, it never will.
That's because within very few years, the cost of battery storage, and the multiplicity of competing smaller pumped hydro and other storage projects, not to mention the growth of distributed storage in households and businesses, would mean there was no room for a monolithic, centralised asset like Snowy 2.0.
In its first years, by its own admission, Snowy Hydro 2.0 will achieve little more than protecting the business models of the existing coal plants, and stifling competition.
It admits that if the government funded project does go ahead it will indeed crowd out other competing projects, most notably battery storage.
That pits the interests of Turnbull's government directly against the interests of the developers of battery storage, the technology that most independent energy analysts will become the dominant forces in the market, particularly in reshaping the grid into a smarter, cheaper, cleaner and more reliable machine.
Turnbull's government has been equally dismissive of battery storage as Snowy Hydro, particularly the Tesla big battery – which has actually shown extraordinary speed and flexibility and is making people think anew about how the future grid might be shaped.
But for battery storage to reach its potential, it needs a change in rules – see Speed of Tesla big battery leaves rule-makers struggling to catch up.
This is not just the creation of 5-minute settlement periods that Snowy Hydro vigorously opposed, (because its fleet of hydro and gas plants are relatively slow moving), but also in fast FCAS markets and numerous other areas where the value of battery storage can be exploited.
The federal government, and its agencies, are responsible for those rules. It now fully owns a big utility whose business interest is to stop those changes. Like so much about Australia's climate and energy policy, it is completely unacceptable.
Note: The reference to Turnbull's defense of the Coalition's attachment to "free markets" came in Question Time on Thursday in response to a question by independent Bob Katter about free markets.
"But I have to say to him, with respect to his views, that we here in the government believe in free markets, we believe in trade and we believe in free enterprise," Turnbull said. And, apparently, government intervention and ownership in a sphere where they also set the policies.
We'd also point out his criticism of a Greens proposal to buy back the grid, made just weeks before Turnbull decided to buy back Snowy Hydro. You can read it here: Turnbull's power play: Snowy 2.0 vs battery storage.
Giles Parkinson is founder and editor of Renew Economy, and is also the founder of One Step Off The Grid and founder/editor of the EV-focused The Driven. Giles has been a journalist for 40 years and is a former business and deputy editor of the Australian Financial Review.