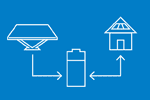 Ergon Energy, the networks distributor for more than 90 per cent of Queensland, has explained why it wants to keep any new solar installations off the grid, and has introduced new rules to stop such exports.
The response came to our story on Friday – Utilities move to kick solar off the grid – which highlighted how Ergon and Energex (which services the south-east corner including Brisbane), will introduce new rules that require systems of 30kW or less to put in technology that limits or removes the ability to export energy back into the grid from rooftop installations.
Ergon told RenewEconomy that it wanted to encourage households to install as much solar and battery storage as it wanted. It just didn't want it on its networks.
The response came in too late to include in our story on Friday, but it is interesting for a whole bunch of reasons – not just for homeowners, the solar industry, and the network operators, but also for generators and retailers.
From July 1, Ergon will allow non-exporting IESs with a capacity up to 30kVA to connect to the main grid with a reduced level of technical assessment compared with exporting systems.

This is because non-exporting IESs do not push network voltages up in the way exporting IESs do and they potentially allow more IESs to be installed over the long term on that local network.

The policy is also consistent with Ergon's aspiration to give customers more choice and control over the way they source and use their power and it may facilitate some customers installing a battery energy storage system in conjunction with their IES.

However, non-export IESs still affect the grid-supplied electricity demand profile and that can lead to other network issues related to relatively sudden changes in generation.

As a result, the existing policy regarding approval for systems with capacity exceeding 30kVA, which already allows for non-export IESs, will remain in place.

Connections for IESs between 30kVA and 5MVA are handled by our Major Customer Team and have a different set of requirements in terms of protection and commissioning checks."
This answers a few questions, but begs others.  While the introduction of solar and storage will defer upgrades of poles and wires, particularly in remote areas, what is not clear is how, for instance, will the network recuperate monies for past network investment.
Another interesting question is how Ergon thinks it will manage consumers that install large amounts of solar and storage on to their premises. The next step, to disconnect from the grid, will not be a big one.
Most network operators concede that micro-grids are the way of the future, but as SA Power Networks CEO Ron Stobbe said recently, it is important for the network operator to deal itself into the picture somehow.
So it is reasonable to assume that this is just the first step in what will be a rapid evolution in the way the network does business with customers, and how it fends off or embraces new options that will be presented by providers of home energy systems management.
It promises to be fascinating. But you wouldn't want to be a retailer or a generator in this environment.
Giles Parkinson is founder and editor of Renew Economy, and is also the founder of One Step Off The Grid and founder/editor of the EV-focused The Driven. Giles has been a journalist for 40 years and is a former business and deputy editor of the Australian Financial Review.