Australia's ambition to become a leading renewable hydrogen producer and exporter means its national terminal capacity must increase tenfold, as a number of major infrastructure projects consider shifting to transporting hydrogen in the form of ammonia.
A new analysis from independent energy research and business intelligence company Rystad Energy published this week has highlighted a trend among major hydrogen infrastructure developers that are considering transporting hydrogen in the form of ammonia.
Ammonia is a safer and more cost-effective method for exporting hydrogen supplies in large volumes, given that it has a higher energy density than hydrogen and can be stored at much less energy-intensive conditions.
A paper published earlier this year by the Kleinman Center for Energy Policy at the University of Pennsylvania in the US determined that, for storage and transport of hydrogen over weeks to months – as would likely be necessary for a country such as Australia, given its relative geographic isolation – ammonia is the more sensible option.
But if Australia is to even get to the stage where it is contemplating the most effective means of storing and transporting hydrogen, Rystad Energy's analysis concludes that Australia must expand its terminal capacity tenfold.
Currently, Australia has only seven terminals with total storage capacity of approximately 173,000 tonnes – enough to accommodate only two to three days of planned clean ammonia exports.
By 2050, however, Australian ammonia exports are projected to expand to 35.9 million tonnes per annum (tpa) based on already-announced projects.
With projects like the Western Green Hydrogen Hub and the Australia Renewable Energy Hub both expected to be among the largest hydrogen projects in the world, and both considering ammonia as a transportation medium, the researchers say terminal capacity must expand rapidly.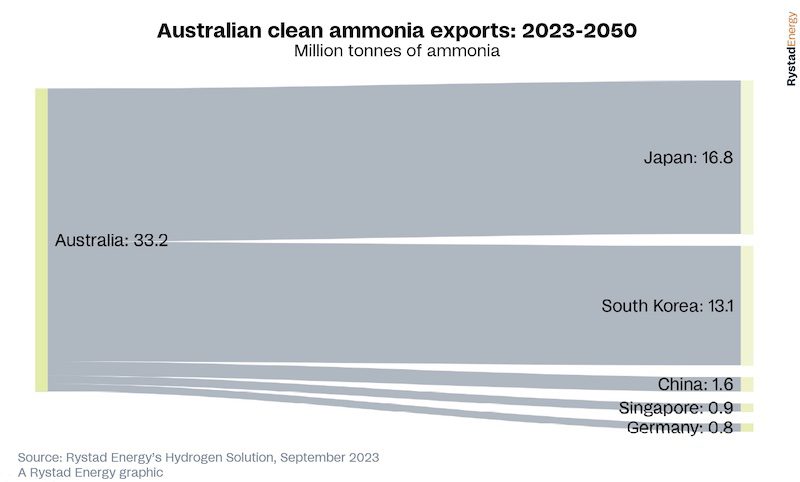 Alongside Australia, Rystad Energy predicts Africa will also play a significant role exporting ammonia, with announced projects already set to contribute 40.7 million tpa by 2050.
Rystad Energy also suggests that existing gas (LNG) facilities could be adapted to transport hydrogen as well, helping to not only meet expected hydrogen and ammonia demand, but also helping to incentivise fossil gas producers to play ball in decarbonising.
Rystad estimates that switching LNG export and import facilities to ammonia would incur costs ranging from 11% to 20% of the total LNG terminal capital expenditure, depending on factors such as demand and location.
While shipping ammonia is currently only in its infancy, it is set to expand quickly. Currently, only 30% of the global liquefied petroleum gas (LPG) fleet can transport ammonia, with only 50 large and very large gas carriers capable of doing so.
But steps are already being taken to increase the ammonia shipping capabilities.
Singaporean shipping giant Eastern Pacific Shipping has already commissioned four very large ammonia carriers from Jiangnan Shipbuilding Group which will become the world's largest carriers, each boasting 93,000 cubic meters of capacity.
However, to transport the 121 million tonnes of ammonia that has already been announced, approximately 200 very large ammonia carriers will be needed, requiring investment of approximately $US20 billion in newbuilds.
Interest is nevertheless growing in retrofitting existing liquefied petroleum gas carriers for ammonia carriage. Given that there are currently 1,450 of these carriers in service, retrofitting could deliver a much needed incentive for shipowners, especially as liquid petroleum gas demand is expected to decrease amidst larger decarbonisation efforts.
Joshua S. Hill is a Melbourne-based journalist who has been writing about climate change, clean technology, and electric vehicles for over 15 years. He has been reporting on electric vehicles and clean technologies for Renew Economy and The Driven since 2012. His preferred mode of transport is his feet.