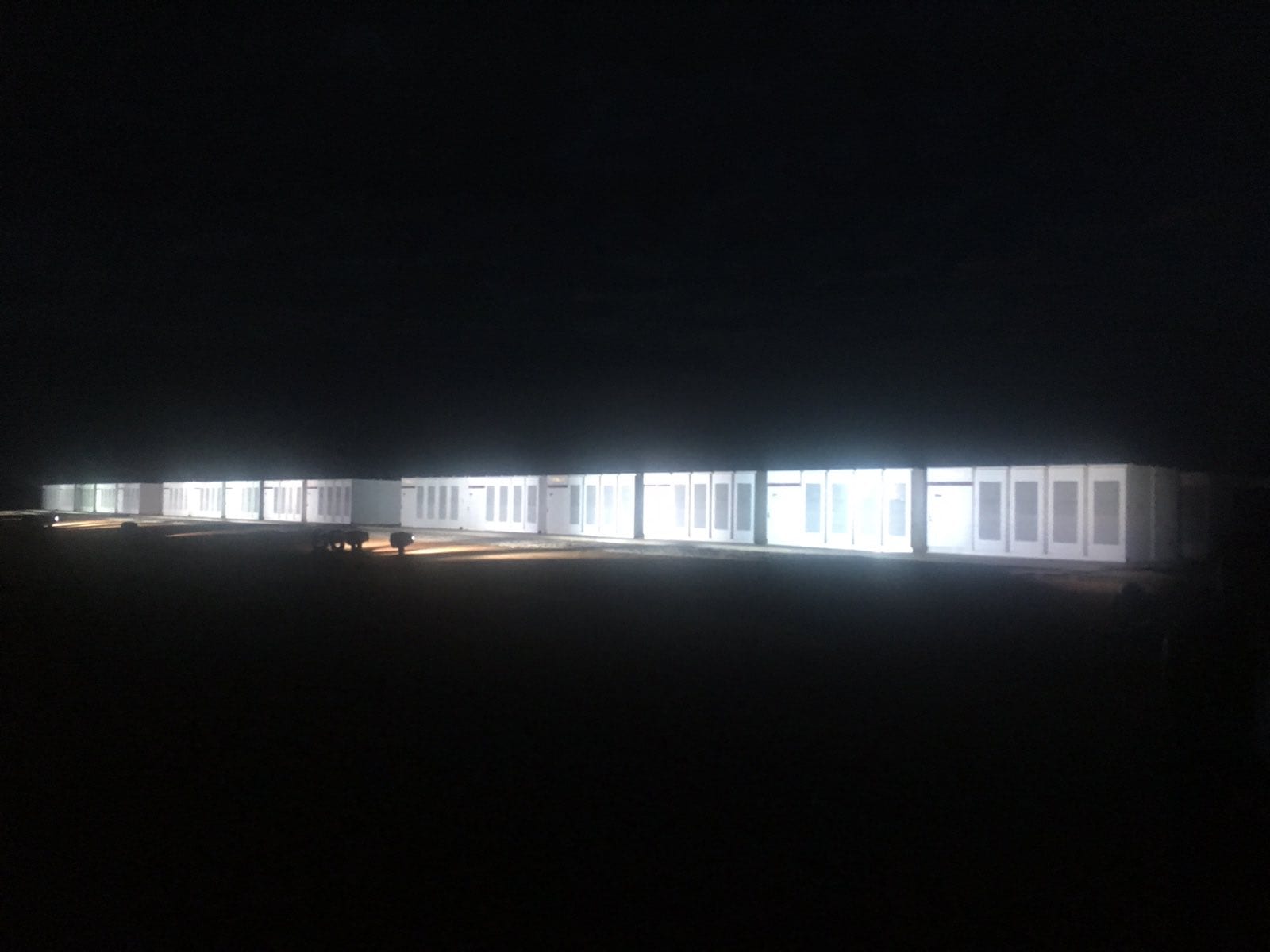 Tesla founder and CEO Elon Musk won't likely have to build the Tesla big battery in South Australia for free – around half of it has already been put in place, and is already storing power from the neighbouring wind farm.
In a major event on Friday night at Neoen's Hornsdale wind farm, near Jamestown in the state's mid-north, Musk announced that a connection agreement had been signed with ElectraNet and approved by the Australian Energy Market Operator.
Even though the agreement was only signed on Friday, half of the array (30MW/65MWh out of the total 100MW/129MWh)  is already in place (see photo above) and was providing power to the unveiling event.
"To have it done in two months," Musk said, is "pretty amazing" – adding that it was quicker than a kitchen renovation. He said it was time to get rid of fossil fuels. "Talk is cheap, action is difficult," he said. "This is not just talk, it is reality."
The unveiling of what will for a time be the world's biggest lithium ion battery storage array attracted about 500 or so politicians, including premier Jay Weatherill and energy minister Tom Koutsantonis, energy industry folk, media people and "Teslarati" – those with Tesla EVs or battery storage.
"This shows how much has been done in a incredibly short period of time," Weatherill said.
"There were lots of people making jokes about South Australia and making fun of our our leadership in renewable energy. They are now laughing on the other side of their face, because South Australia is leading the world on renewable energy technologies."
Koutsantonis was equally effusive: "Welcome to the 21st Century," he said. And he was equally dismissive of the federal government and prime minister Malcolm Turnbull, which only on Friday said the state would be unable to host an AFL grand final because it had unreliable power.
Musk had promised to build the Tesla big battery within 100 days of signing a connection agreement "or it's free" after beating off 90 or so other competitors that bid for the S.A. government's "big battery" tender.
However, that 100-day promise is notional anyway. The contract signed with the S.A. government is to deliver the battery array by December 1, the start of summer. AEMO is counting on it, along with demand management and other initiatives, to ensure there are no blackouts.
The 100MW/129MWh battery array will be used partially to "time shift" the delivery of wind power from Hornsdale, but most of it is dedicated to helping stabilise the grid and keeping the lights on in case of a major disruption like last year's storm that led to the "system black." (See this explainer).
"The interconnection agreement has been approved by AEMO and has just been signed this afternoon by Electranet," Tesla said in a statement issued as Musk took to the stage, hours after he had outlined his visions for space travel to the moon, to Mars, and even between continents on Earth.
"Tesla and Neoen now have 100 days to complete the largest lithium-ion battery storage project in the world," the company said.
"It will help solve power outages, reduce intermittencies and manage summertime peak load to support the reliability of South Australia's electrical infrastructure, providing enough power for more than 30,000 homes—approximately equal to the amount of homes that lost power during the blackout period last year."
Tesla and Neoen said the battery array will help solve power outages, reduce intermittencies and manage summertime peak load to support the reliability of South Australia's electrical infrastructure.
"These Powerpacks were manufactured at the Gigafactory in Sparks, Nevada, U.S.A.
"Our Gigafactory will ultimately have more battery production capacity than the rest of the world combined, helping Tesla to achieve high economies of scale, leading to the lowest cost-per-kilowatt in the world, allowing us to deliver our products globally."
Listen to our Energy Insiders podcast, with special guest Franck Woitiez, the head of Neoen Australia, which actually owns and will operate the South Australia big battery.
Giles Parkinson is founder and editor of Renew Economy, and is also the founder of One Step Off The Grid and founder/editor of the EV-focused The Driven. Giles has been a journalist for 40 years and is a former business and deputy editor of the Australian Financial Review.