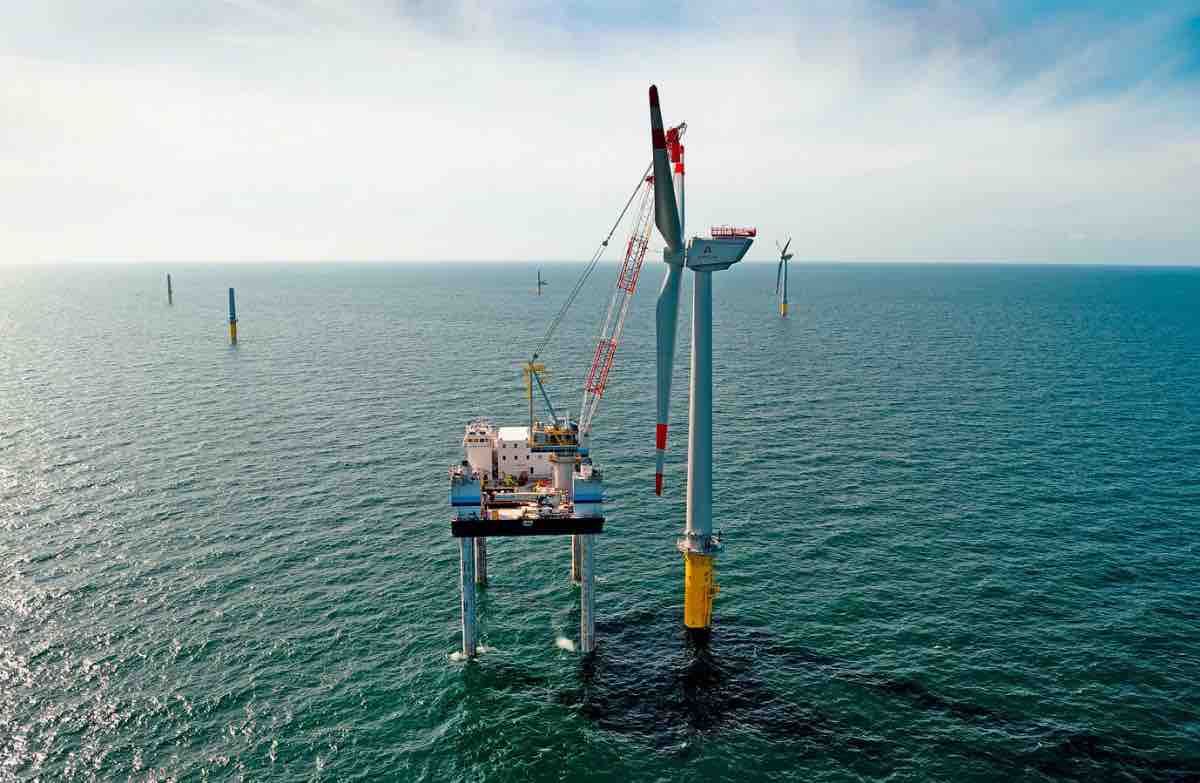 Offshore wind is poised to play a critical role in Australia's energy transition.
An area has already been declared suitable off Gippsland and another off the coast of the Hunter.
Further declarations appear imminent with consultations confirming likely locations up and down the coast of New South Wales, Victoria, Tasmania, South Australia and Western Australia.
Much needed new clean energy investment is backing development.
BlackRock, the world's largest asset manager, is seeking a stake. And global developers like Shell, Equinor, Orsted, BlueFloat Energy, Iberdrola and GPG are competing with local players for feasibility licences to begin projects.
First Nations rights, interests and responsibilities in Sea Country
Beneath the swirl of excitement, proponents may be concerned a very real risk has been ignored.
For First Nations people, Sea Country is inseparable from terrestrial Country.
Just as the courts found with land, marine areas have been owned and cared for by First Nations for millenia through complex systems of responsibilities and management of rights including ownership, use, and exclusion of others.
As described in evidence by one Traditional Owner, "The earth and the sea, the water is not empty." There is an ongoing relationship with both that ethically, and legally, should not be ignored.
Australia's failure to recognise this has resulted in First Nations' relationships with Sea Country being made "invisible".
While perhaps a matter of great convenience to government, it should cause immediate concern for energy proponents.
Perpetuating the myth of terra nullius in Australia's offshore areas could prove costly.
Recent court case recognises 'rights holders of the sea'
A Federal Court case in December 2022 unexpectedly turned around this notion that First Nations' rights, interests and responsibilities are absent in offshore areas.
At a massive cost to Santos, that decision confirmed the company must meaningfully consult on its massive $2.4 billion Barossa gas project with the Munupi clan from Tiwi Islands – the rights holders of the sea in that area.
As in the Munupi 'sea' case, south-western Victoria's Gunditjmara people had to prove a "special interest" in their own Country in their High Court 'land' case against Alcoa of Australia. They also won.
Although Australia's systems of law and policy still requires First Nations – who have been here for 65,000 years – to go to Court to prove a special interest in land or sea, just like Munupi did, this case and others should offer pause to offshore wind proponents and investors aiming to reduce project risk.
The Offshore Electricity Act must be refined
Despite increasing government narratives of energy policy investment certainty, this unjust 'onus of proof' is replicated in the Federal government's legislative scheme for offshore wind.
The Offshore Electricity Act 2021 conveniently maintains the invisibility of First Nations' rights, interests and responsibilities in Sea Country, perpetuating the myth of terra nullius.
Declarations to thousands of kilometres of Sea Country can be made without a requirement to engage with the Traditional Owners for these areas.
Similarly, the Act and regulations are silent on the role of Traditional Owners in the granting of feasibility and commercial licences, or in embedding Traditional Owners in processes or decisions.
This is short-termism.
Perpetuating terra nullius in Sea Country will create investor risk and uncertainty and a higher likelihood of legal contestation, delay and dispute for offshore wind projects over their operating life.
This isn't what investors and proponents want as they enter Australian waters.
Capital demands certainty and risk needs to be minimised at every point. Yet the Australian government has silenced the very people who can provide this.
Governments must design rules that include First Nations and mandate free, prior and informed consent to decrease risk, delay and uncertainty
Australia's legislative and policy systems that set the rules for engagement with First Nations are outdated by global standards.
They were formed either in an atmosphere of concocted hysteria following Mabo,Wik and the 10-point plan, or worse, in a by-gone era when First Nations' culture and accompanying rights, interests and responsibilities were conveniently made invisible and so rendered silent.
These old rules and old ways don't meet the needs of stakeholders.
Like the Munupi, Indigenous people across the globe are moving beyond minimal corporate social responsibility and tokenistic consultations to demand a new realism.
First Nations people are no longer just the passive hosts of projects or a mere regulatory hurdle to be jumped over as quickly as possible.
Promising jobs or business opportunities as the only benefit flowing from projects doesn't cut it anymore.
Proponents know this. Risk conscious financiers are increasingly insisting on the need for FPIC engagement.
Stalled progress on a variety of projects attest to the growing urgency of including Free Prior and Informed Consent (FPIC) rights in Australian legislation, and, if consent is given, to fully include First Nations in the early planning, design, execution and management of projects.
Doing so is not some utopian wish.
Rather, proper process makes sound, practical business sense for energy investors.
It will decrease uncertainty and project risk resulting in a range of additional economic, environmental, social and political benefits to all parties.
The Australian Government must create investment certainty for offshore wind proponents and demonstrate that perpetuating the myth of terra nullius is no longer adequate or appropriate.
In the emerging new zero-carbon economy, rules that render the rights, interests and inherent responsibilities of First Nations people invisible will not work effectively for anyone.
Investors beware.
Jonathan Kneebone is from the First Nations Clean Energy Network