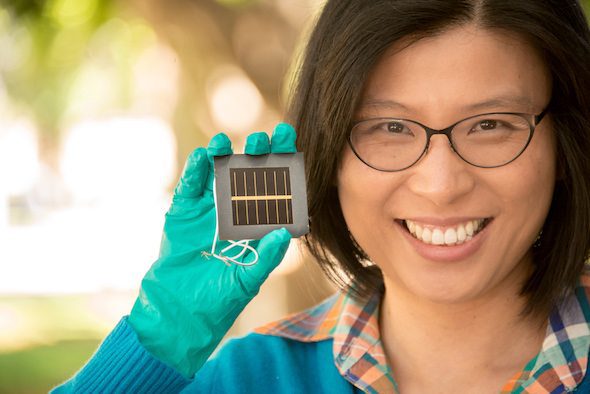 Solar engineers at the University of New South Wales have scored the world's highest efficiency rating with the largest perovskite solar cells to date – a level of efficiency the team believes it can double within another 12 months.
In a presentation to the Asia-Pacific Solar Research Conference in Canberra on Friday, UNSW team leader and senior research fellow at the Australian Centre for Advanced Photovoltaics, Anita Ho-Baillie revealed her team had achieved 12.1 per cent efficiency for a 16 cm2 cell.
This gives UNSW claim to the largest single perovskite photovoltaic cell, at least 10 times bigger than the current certified high-efficiency perovskite solar cells on record, certified with the highest energy conversion efficiency.
The team – which is part of a multi-university collaboration funded by a $3.5 million annual grant from ARENA – has also achieved an 18 per cent efficiency rating on a 1.2 cm2 single perovskite cell, and an 11.5 per cent for a 16 cm2 four-cell perovskite mini-module, both independently certified.
Perovskite – named after the Russian mineralogist who discovered it, Lev Perovski – is a red hot area of solar research, and moving at a break-neck speed, largely because the crystal-like compound is cheap to produce and simple to manufacture. As the video below illustrates, it can even be sprayed onto surfaces.

"Perovskites came out of nowhere in 2009, with an efficiency rating of 3.8 per cent, and have since grown in leaps and bounds," said Ho-Baillie.
"The diversity of chemical compositions also allows cells be transparent, or made of different colours. Imagine being able to cover every surface of buildings, devices and cars with solar cells.
"These results place UNSW among the best groups in the world producing state-of-the-art high performance perovskite solar cells. And I think we can get to 24 per cent within a year or so."
Another of the advantages of perovskite solar cells is that they can be made at much lower temperatures and 200 times thinner – and thus more flexible – than silicon cells, which need to be baked above 800˚C in multiple high temperature steps.
Perovskite solar cells also have the highest power to weight ratio amongst viabale photovoltaic technologies.
What is holding them back, however, is that their vulnerability to fluctuating temperatures and moisture, which currently means they last only a few months without protection.
Along with "every other team in the world," Ho-Baillie says her team is trying to extend the perovskite solar cell's durability – an exercise they hope can be achieved with layered silicon.
Last month, Australian National University developed a new way of making semi-transparent perovskite-silicon solar cells that showed promise of cheaper and up to 30 per cent more efficient solar cells.
But even without a fix for that problem, the UNSW team notes there are many existing applications where disposable low-cost, high-efficiency solar cells fit the bill, including disaster response, device charging and lighting in electricity-poor regions of the world.
"We will capitalise on the advantages of perovskites and continue to tackle issues important for commercialisation, like scaling to larger areas and improving cell durability," said Martin Green, Director of the ACAP and Ho-Baillie's mentor.